Take The Lead is working to close the gender leadership gap in MEDIA and ENTERTAINMENT by 2025.
50 Women Can Change The World in Media & Entertainment is building a community of ambitious women committed to gender parity in Hollywood. This is a four-month, game-changing leadership and movement-building program that supports women in redefining power and creating a new blueprint for the industry.
By elevating women's voices in Media and Entertainment, the scope of change will go beyond the women in the room. It will shape the culture we wish to see. A more nuanced approach to women's stories from diverse backgrounds will open the door to deeper understanding and a quickened pace to equality for all.
Take The Lead provides real-world tools, specific to industries, that transform the way women relate to power. Through collective skill building, we create a network of leaders equipped to build a more just and equal world.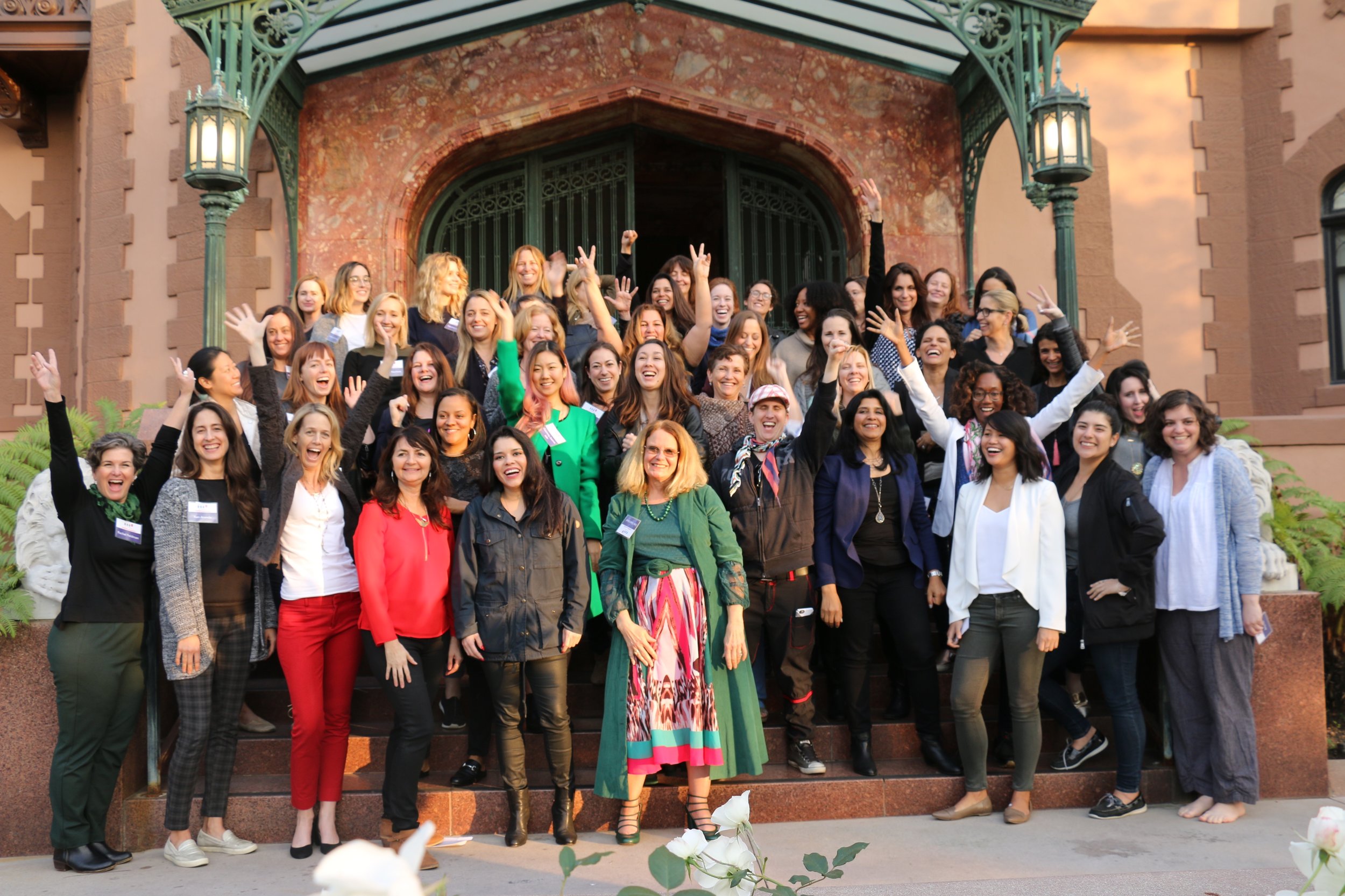 What will it take to move the needle and get to gender parity in MEDIA & Entertainment?
Timing: Evidence shows there is an increased demand for women's stories. Across the country, women are waking up to new ways the system does not support them. We are looking to help shape an industry that honors, respects and tells the stories of the female experience from the female perspective.
Skills: We are looking to assemble a team of 50 female professionals, with proven skills, interested in creating the change we'd like to see.
Experience: This is not about breaking in or learning new ways to cope with systemic flaws, though it is important to understand the existing systems in order to change them. It is our mission to change systems, to build something new based on the experience of a diverse group of women. This is about sharing experience to forge a better way.
Blueprint: With timing, skills, and experience we will formulate a new blueprint for success over the course of 4 months. Our founding partner and presenting sponsor, Women Connect4Good, has generously provided seed funding for this program and we are matching that funding with other champions taking the lead for gender parity. We require a serious commitment to the process and each other.
Tools: The women in the room know their jobs. We offer new tools to bring to their work and lives. Participants will examine and redefine their relationship with power, learn Take The Lead's 9 Leadership Power Tools and collectively grow a vibrant network of influential women in the industry.
Action: The success of the program in based on continued action. The increased number of women leading in the media and entertainment industry will quicken the pace to gender parity in leadership across all sectors, fulfilling Take The Lead's mission of supporting women to take their fair and equal share of leadership by 2025.
Ready to join the movement?
We are building a community of ambitious women committed to gender parity in Hollywood for this four-month intimate leadership program.
nominatE A WOMAN TO JOIN THE PROGRAM.
This program will collectively grow the sisterhood among women in the entertainment industry, forming a cohort that can work together over the long term to change the narrative worldwide. We are looking for women in the media and entertainment industry who have exemplified leadership, commitment, professional dedication, and creativity throughout their career. From seasoned professionals to buzz-worthy newcomers, we know women benefit from sharing insight across the spectrum of experience. Shine the light on a woman and encourage her to take the lead in this initiative. Or apply for yourself.
*NOMINATIONS ARE NOW CLOSED FOR THE SPRING 2018 PROGRAM
Nov. 1, 2017
Nominations open
Dec. 10, 2017
Nominations close
Jan. 8, 2018
50 Women Cohort Announced
Winter/Spring 2018
Launch Event & Program Kick-Off!
We are honored to have Dr. Nancy O'Reilly and Women Connect4Good as our founding partner and presenting sponsor. Founded by O'Reilly, Women Connect4Good supports and connects women to empower and lift up all women to break through barriers that prevent them from achieving sustainable, fulfilling lives and claim their power to change the world.
We are grateful for the support of the following sponsors & partners:
Collaboration and partnership is essential for the success of this initiative.
We are excited to connect with individuals, organizations, and associations who are passionate about gender parity in the industry and women's leadership. For sponsorship inquiries, please contact brookenewberry@taketheleadwomen.com.
ABOUT TAKE THE LEAD
Take The Lead is a 501(c)3 nonprofit organization with a diverse team of trailblazers, entrepreneurs, activists, advisors, and Leadership Ambassadors, committed to gender parity in leadership by 2025. Since 2014 we have partnered with the best and brightest to reach this ambitious goal. When it comes to accelerating women's leadership, we believe power is an infinite resource and welcome exploring new connections. We partner with a wide variety of non-profit, academic, for-profit organizations and generous funders. Learn more about Take The Lead.